Gayatri Mantra book by ShantiMayi
Original language English, also available in Dutch and French.
English

G01

Dutch

G02

French

G03
"There are people everywhere, chanting the Gayatri Mantra from the heart, which in turn is like a cleansing breeze moving over our earth. Twenty-four hours a day this mantra is emanating from an under-current of altruism. What is this mantra all about and why is it so hauntingly familiar to those who hear it for the first time? The Gayatri Mantra resonates with beings of all ages and from all over the world. The word 'beings' is used here rather than 'people' because everything resonates to the sound, the frequency and meaning of the Gayatri Mantra.
The message of the Gayatri Mantra is
meant for all and touches everyone".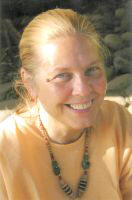 ~ShantiMayi~
Gayatri Mantra
Sacha Sadhana
1. Ganesha Mantra
2. Gayatri Mantra 108 (4x27)
3. Silent meditation
4. Om Asatoma Satgamaya
5. Tayata (Medicine Buddha Mantra)
6. Gaté gaté
7. Om Sarabe Bhavantu
8. Om Purnamadah
9. Om Shri Sacha

Order code: G04
This CD contains audio tracks of the Gayatri Mantra spiritual practice (sadhana) as described in the book 'Gayatri Mantra' by ShantiMayi. The CD includes a booklet with the original text and translation of the Sacha Sadhana as it is done in India. This CD is very wonderful to chant alone or with a group.
Studio recording by the Sacha Sangha.

Listen to an audio sample of this CD in WinMedia format:
SPECIAL OFFER

Gayatri Mantra gift set

Book, CD and original Indian mala

English book: order code: G05

Dutch book: order code: G06

French book: order code: G07
'An Offering'
A

rati and Gayatri Mantra
ShantiMayi and Sacha Sangha
Contents:

1. Purification Mantras

2. Offering Mantras

3. Ganesha Mantra

4. Opening Mantra

5. Performing the Arati: the Sankulp

6. Performing the Arati: The Waving of the Lights

7. Gayatri Mantra

8. Closing Mantras

Order code: G08
Live recorded in Sachadham, India

Listen to an audio sample of this CD in WinMedia format: Intro and Gayatri Mantra
Gayatri Mantra Meditation

(2x108 recitations)

1. ShantiMayi chants the Gayatri Mantra

2: ShantiMayi chant the Gayatri Mantra with Premo

Order code: G09
"When you sit in meditation and repeat the Gayatri Mantra for the earth no matter what time of the day,
you enter a great force of subtle prayer that wraps our planet in support of the Enlightenment of all beings".
~ShantiMayi~

Listen to an audio sample of this CD in WinMedia format: Track2 Gayatri Mantra ShantiMayi&Premo
Join our World Wide Gayatri Mantra Light Circle by chanting the Gayatri Mantra for the enlightenment of all beings.
You may also include areas that need spiritual awakening and humanitarian aid
such as natural disasters, catastrophes and areas which have been affected by anti-environmental impact.