Metta Meditation and Healing Music
Metta Meditation by ShantiMayi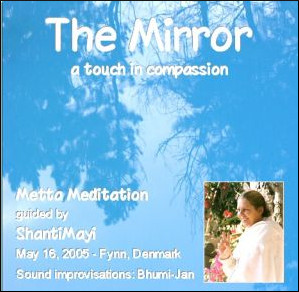 MP3 Order Code R06M

A way past divisions and into love. A healing meditation for One's self and One's challenges as well as the world.
Metta meditation is a very old practice. ShantiMayi suggests that her disciples practice metta meditation for spiritual clarity, as well as learning how to reach across to others when conflict arises.
"Metta means loving-kindness. Buddhists use this meditation to cultivate open-heartedness and therefore a centered-ness in all kinds of relationships.
1. Sound improvisation - Bhumi-Jan 19:26
2. The Mirror, a metta meditation - ShantiMayi 23:54
3. Sound improvisation - Bhumi-Jan 21:55
Total playing time 65:15


Listen to an audio sample of this CD: