ShantiMayi's "Better than Books" series.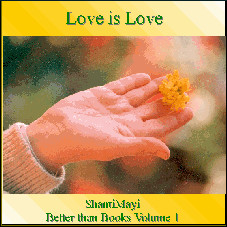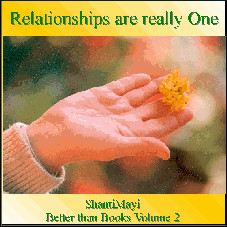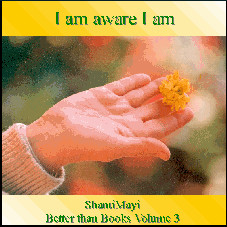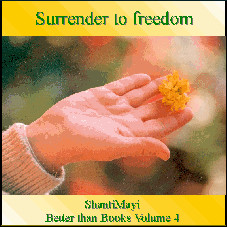 | | | |
| --- | --- | --- |
| Order Codes | | MP3 |
| Complete set of 4 CDs: | | S01M |
| Love is Love: | | S02M |
| Relationships are really One: | | S03M |
| I am aware I am: | | S04M |
| Surrender to freedom: | | S05M |
Beautiful teachings on love, freedom, and self- awareness
...in an accessible question-and-answer format.
4-CD set, or you may buy the CDs individually.
Part 1: Love is Love. "...the great yogis have found that it is not so important to be loved as it is to know what love is, and just to love. To see it everywhere and to define it only as my life experience. Then wherever the eyes rest, one can see love."
Part 2: Relationships are really One. "Question: ShantiMayi, in this lifetime I am committed to Realization. I want to know my true nature, and I feel as though I cannot do this with a partner....Can you shed some light on it and tell me what is your view. Must I be alone?"
Part 3: I am aware I am. "...the truth is not wavering. It cannot come out of balance. It is always in balance...it is not as though one day you will intuit your true nature and then the next day it is gone."
Part 4: Surrender to freedom. "Surrender is handing over all that is false and erroneous in your life. What can that be? Your pain, your suffering, your feeling small or way too big. Your concern about what everyone thinks and not knowing what YOU think...surrender means to render yourself free."
4-CD set costs EUR 65.00. Or individual CDs EUR 18.00 each.

Listen to an audio sample of this CD:
Better then Books 1a Love is Love
Better then Books 2a Relationships are really One
Better then Books 3a I am aware I am
Better then Books 4a Surrender to Freedom


Order codes:
| | |
| --- | --- |
| Complete set of 4 CDs: | S01 |
| Love is Love: | S02 |
| Relationships are really One: | S03 |
| I am aware I am: | S04 |
| Surrender to freedom: | S05 |