The Challenge of Love
Satsang with ShantiMayi Sacha Dham, India - Jan 15 & Feb 11, 2003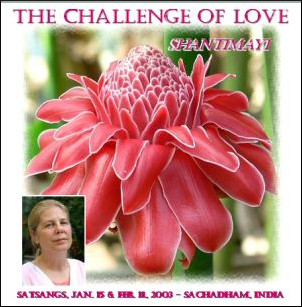 MP3 Order Code S12M

In this satsang ShantiMayi shows us clearly what love truly is. ShantiMayi enlightens all our misconceptions about love; misconceptions which causes us so much misery and pain.
We have the choice to live with transparent and clear eyes, or we can obscure our view with hatred and division.
She says: "If there is anything that we have to do, it is to understand what love really is. You cannot satisfy anyone, nor can anyone satisfy you. You have to be all the things you would want for yourself".
Total playing time 79 min.


Listen to an audio sample of this CD: