Right in the Center of the Eye
Satsang with ShantiMayi - January 1996 India.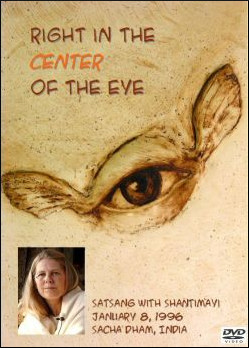 Playing time 1h05
MP4 Order Code D07M
ShantiMayi speaks about basic questions as:
-Why do we need a (living) master?
-What is the meaning of a spiritual name? –
-What is a Mantra?
Aim right in the Centre of the Eye.
The blessings of the Great Beings, who are now disembodied are always supporting and guiding every being who cares to discover their heart of hearts .
Grace is ever flowing from those Masters who have once touched the earth, and have touched your heart.
Those graceful blessings never, never cease to flow.
They knew themselves to be eternal.
They know you to be eternal.
and so it is.
ShantiMayi