Tracing back the radiance
A journey with ShantiMayi and the Sacha Sangha. along the holy river Ganga,
visiting the ashrams of the Sacha Lineage. India, January, 1999.
This wonderful double DVD is more an historical document than a particular teaching.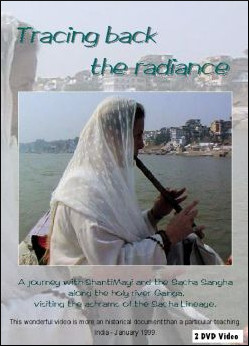 Playing time
MP4 1: 1h17
MP4 2: 0h47
MP4 Order Code D14M
MP4 1: 'ThAT' Ocean of Devotion.
Allahabad
• Visit to the Sacha ashram of Sri Kulanandji Sacha Baba, the Master of Sri Maharajji (who is the Master of Sri ShantiMayi).
• A boat trip to the Magh Mela, a gathering of millions of pilgrims at the banks of the holy river Ganga (Ganges).
• Visit to the Maha Samadhi of Sri Kulanandji Sacha Baba.
Varanasi
• Visit to Kacha Baba kutir, a peaceful place outside of Varanasi.
• An impressing view of this very ancient and holy city, followed by a boat trip to two Maha Samadhis: one of Sri Kacha Baba and one of Sri Giri Nari Baba.
• Here we will have a deep and heart-touching satsang with ShantiMayi.
• This boat trip ends with a profound visit to the burning ghats in Varanasi by night.
MP4 2: The Transmission.
In this unique satsang in Varanasi, ShantiMayi covers in depth the miracle and the blessings of transmission of energy. ShantiMayi speaks also on other subjects, such as: Those Great Beings, who have inspired her.
Her Master Hans Raj Maharajji has been the light of her life, the greatest inspiration and the most powerful love of her life.